PrintClient¶
Mapbender offers a PDF print, which print a defined area of the map. Before you print you can choose via the client these different possibilities:
Select scale,
Select quality,
Rotate the print frame,
Print legend.
Optional you can define individual input fields (f.e. title, comment, notice) which will also be printed in the pdf.
The print element uses print templates, which can be modified individually. In the print templates you can define regions for date, scale (text or scalebar), overview map and north arrow.
Mapbender contains already a collection of print templates (LibreOffice Draw files in formats A4 to A0), which can be modified individually.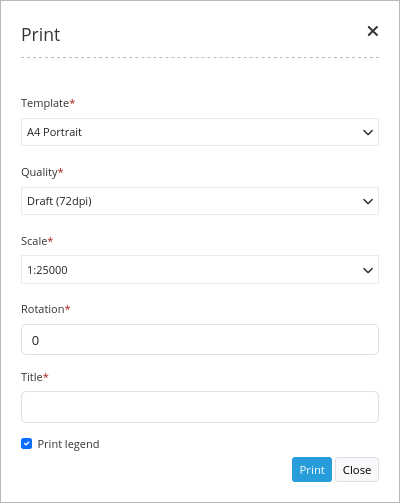 The PrintClient can be used both as a dialog and an element as part of the sidebar. If it is part of the sidebar, you have to activate the Print Frame first to start the print. If you have finished, you have to deactivate the Print Frame again to use the map again as usual (when used as a dialog this happens automatically by opening and closing the dialog window).